It is first and foremost exciting to live in a time where the first truly authoritative text on the history of wealth and global economy, illuminated by the largest body of data ever collected and collated, has been written. Add to that the text is user-friendly to even the most averse to mathematical formulae, the charts and graphs are voluminous and instantly illustrative. This book is a monument, not only in its size and scope, but also to the course and history of social philosophy and all the social sciences (including literature) which inform it.
It's such pain-staking detail that makes the work so compelling, and there's enough to slog through that gives the book its daunting initial impression. But its thorough-going proofs and histories contribute to the clarity of its common sense proposals in combating wealth divergence without undue effect on productivity, in making the case for infrastructure, education (and cultural) spending as inevitable engines of mobility. Most alarming, though, are the book's assessments of the present oligarchic trajectory of income inequality: "..an oligarchic type of divergence, a process in which the rich countries would come to be owned by their own billionaires or, more generally, in which all countries,including China and the petroleum exporters, would come to be owned more and more by the planet's billionaires and multimillionaires. As noted, this process is already well under way."
An inestimably important work.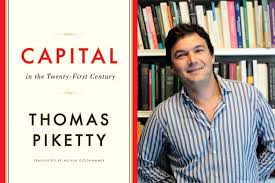 Subscribe
Never miss out on Christopher's events or special notices.