From the Top did a live taping to celebrate the 40th Anniversary of the National Music Museum in Vermillion, SD this past Sunday. The kids played a Gamelan orchestra together, our young guitarist got to sample some of Gibson's earliest guitars, and I got to play on two beautiful fortepianos, one Schantz reproduction, for a performance of a movement from Beethoven's Spring Sonata,  and an incredible Anton Martyn Thym instrument made c.1815 on which i performed the opening movement of Beethoven's "Waldstein" Sonata.
Thanks to Tom Voegli, FTT's producer-in-chief, for gleefully rushing home to prep this clip as soon as he could, and to our engineer, Berred Ouelette, who placed his array of Schoeps, Neumanns and DPAs so expertly, I daresay it sounds better recorded than it did even under my ears!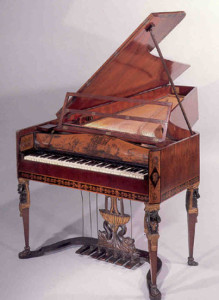 Subscribe
Never miss out on Christopher's events or special notices.