just finished reading Homo Poeticus: Essays and Interviews by Danilo Kis, edited and with an introduction by Susan Sontag.
an indispensable guide and inspiration to his work.
"I believe that literature must correct History: History is general, literature concrete; History is manifold, literature individual. History shows no concern for passion, crime, or numbers. What is the meaning of 'six million dead' (!) if you don't see an individual face or body–if you don't hear an individual story?"
Psalm 44, an early novel, is next, then I am afraid i'll be caught in a Kis-loop, rereading his family chronicle tryptich again, starting with the first, which i've not read, Early Sorrows, then rereading Garden, Ashes, and then Hourglass (his masterpiece) again.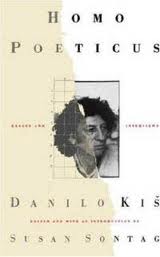 Subscribe
Never miss out on Christopher's events or special notices.