Here's my latest recording from my survey of The Well-Tempered Clavier.
In response to listeners' requests and suggestions about the recorded sound, I've shifted the AMT M40 down further away from the action, into the farther end of the frame. The M40 is a stereo, single-capsule condenser mic that mounts on the inside of the piano frame, requiring that the lid remain closed to focus ONLY piano sound. I don't even have to worry about not only bleeding room sound, but the occasional passing car, or my more than occasional Gouldian vocalisms. I also placed the mic a little further down, away from the lid, closer to the plate, creating even more space to catch the incredibly close first reflections. I think it's a pretty clear improvement. What do you all think? I love this microphone, and of course, my CD 207, the venerable Steinway Concert Grand from the bad ole' 80's when Steinway was discreetly placing Hamburg actions into American Steinway concert instruments, is the world's best, IMO. CD 207 was the house piano at the 92nd St. Y concert hall on NYC's Upper East Side for many years (I'd likely performed on it a number of times back then; never did I dream I'd ever make it my own), was reportedly Alicia Dellarocha;s favorite piano in NY, and its last gig prior to its retirement was touring with Billy Joel, who apparently had the hammer shanks shaved so he wouldn't have to work so hard playing it. CD 207 now has brand new American Steinway hammers installed, best hammers the company has ever made, and it's back to its sturdy touch-weight, though not nearly as heavy as the 65gram Magnetic Balanced Action I had installed on my ~120 year old Steinway B. Piano-wise, and mic-wise, I'm completely spoiled.
My 96-episode archive, Everything We Need To Know About Playing The Piano We Learn From The Well-Tempered Clavier, is now available at a special introductory rate of $20 for the first month of 10 episodes (that's 2 /1/2 hours of material on the first 5 Preludes & Fugues), with at least 10 more episodes a month thereafter.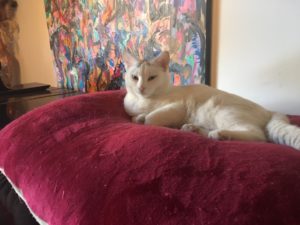 Subscribe
Never miss out on Christopher's events or special notices.