As I make my way through recording the complete WTC, I'm also building a piano-curricular archive, videos explicating my thoughts and offering educational moments of more general application on each Prelude and Fugue.
The archive will be a rich resource and will be available to those enrolling in my online piano program, soon to be launched. For more information, or to schedule an online lesson, sign up at http://www.christopheroriley.com/lessons/
And, for a limited time, to all those who sign up for my mailing list at http://www.christopheroriley.com/subscribe/ I will make exclusively available the first four video mini-lectures in the archive, Everything We Need To Know About Playing The Piano We Learn From The Well-Tempered Clavier; segments on the Preludes and Fugues in C Major and c minor, Book One.  That's over an hour's worth of material that will lend improvement, empowerment and inspiration to musicians and music-lovers alike.
Meanwhile, enjoy this latest recording.
Cheers.
https://youtu.be/BPmeEP0VMmU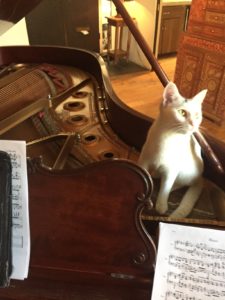 https://vimeo.com/manage/345976250/general
Subscribe
Never miss out on Christopher's events or special notices.