Haven't done one of these in a while, since Void, but River's been percolating and on my short list for some time now, another song I came lately to know. Staying true to the Old Ramon original (though influenced by innumerable live tracks of all my favorite Mark Kozelek songs, on perpetual play for over a year now), with guitar solos midway and in the coda, the massive, granite-like F/E of the bridge, coloured by my own lapidarily chosen dissonances, it's a big piece; nearly 11minutes.
I often roll out my arrangements as breakpieces at live From the Top tapings. I'm sure I'll play this one, but it'll need to be much shorter. So this one in its entirety, though I'll be including it in all my mixed recitals from here on (I'm pretty pleased with the results), I thought I'd send up on my own 1898 Steinway B here at Westshire.
And two yellow eyes remember souls of ancient lies
And she sees them dance and hears them moan and cry
And two yellow eyes reveal her warmth and love inside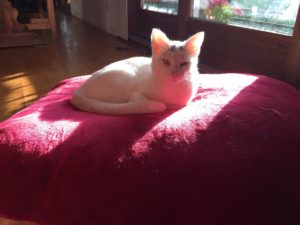 This is the first music for which I had round-the-clock assistance by my little yellow-eyed (we prefer golden, please) princess, Iman.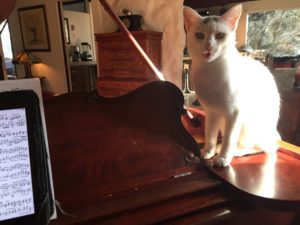 She got more and more interested once I'd gone through the tortuous process of revision, trying to get every moment of sonority just right (though that, inevitably, with me, involves fractally mutating and haloing the harmonic world Mark Kozelek tries so hard to make simple and direct), and i finally got around to playing large swathes of it. Climbed right in to the piano. Where the warm was.
And she settled right in, as above, as soon as I started my one-take session.
Enjoy.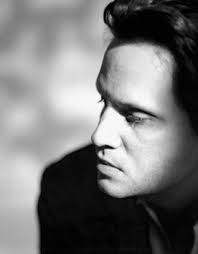 Subscribe
Never miss out on Christopher's events or special notices.