just finished reading the devotedly curated collection, EXPELLED FROM EDEN, A WILLIAM T. VOLLMANN READER, edited by Larry McCaffery and Michael Hemmingson.
i've read all of Vollmann's work (admittedly, only the 800-page condensed version of the 7-volume 'life's work' of Vollmann (though i do own the complete), his history and calculus of violence, RISING UP AND RISING DOWN). he is the most passionate purposeful, crusading historian/writer of all time. his writing is unflinching and beautiful. his researches and travels have led him into the most forbidding and dangerous places on Earth.
here in EXPELLED, we have a lovingly chosen precis of Vollmann's work, including some letters, speeches, reviews and juvenalia not heretofore published, but more importantly, gems from his prolific output that would be an ideal entre into an ouevre that should be requisite for any serious reader.
outstanding.
must-read.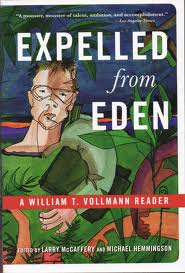 Subscribe
Never miss out on Christopher's events or special notices.