just finished reading Nikolai Grozni's WUNDERKIND, a novel based on the author's life experience as a gifted young pianist in a Bulgarian School for the Gifted in Sofia during the last days of the Iron Curtain.
it's a very dark but sometimes darkly comic novel, with, not incidentally, some of the smartest and most beautiful writing on piano playing and piano music i've encountered.
each chapter bears a musical title, this passage from the one marked Chopin: Ballade #2 in F, Op. 38: "the second ballad was in six-eight, a sucession of alternating long and short notes, the rhythm of a human heart. No surprise that there was no meaningful recording of the second ballad. Perhaps it just couldn't be recorded. It was too elusive too impossible to measure. Everything was about rhythm, I knew, but the art of keeping rhythm wasn't about being on time so much as breaking free of time, creating the illusion of time without being bound b it; it was a magic act on par with stuffing elephants into a bottle or catching the milky way in your hand like a firefly." [take that, Daniel Barenboim on 'rubato']
an essential book for literarily minded musicians, or musically inclined literateurs.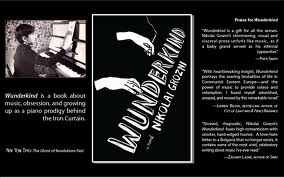 Subscribe
Never miss out on Christopher's events or special notices.