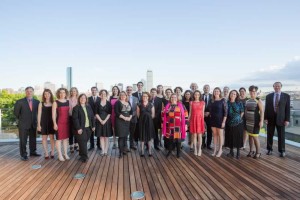 Tonight was the 10th Annual From the Top Gala, held this year at the incredible MIT Media Lab.
First opportunity to take a complete staff photograph. What a great-looking bunch, the hardest-working and most congenial group I've been honoured to work with now these 15 years.
Your soundtrack for perusing this panoramic sea of smiles is the breakpiece I performed at our latest From the Top live taping at the Virginia Arts Festival in Norfolk. It's Cyril Scott's At Dawn.
Subscribe
Never miss out on Christopher's events or special notices.