I'm reveling in the pleasures of figuring out which of my dozens of Pianoteq virtual keyboards sound best with particular Preludes & Fugues. Could be fun to re-recod the whole set on lots of different instruments appropriate for the piece. I've lately made it my practice, with the Fugues, to work them through 7 times: twice on one of my harpsichords (Giusti (my favorite), Ruckers, Blanchet, Grimaldi) and once through, rewarding myself with the lush overtones and sostenuto of a modern concert grand (Steinways US & HB, Grotrian, Steingraeber) with concert hall reverb.
The Pianoteq system allows me to modify every physical aspect of the instrument: string length, strike point, hammer hardness in each dynamic range, damper noise, hammer noise, key release noise, anything you can imagine as far as tuning & temperament.
I hadn't played the Streicher for a while. Dying to play some Schumann on it.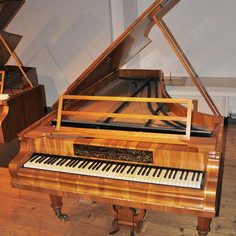 Subscribe
Never miss out on Christopher's events or special notices.