just finished reading Joe R. Lansdale's latest and greatest, The Thicket, this righteous revenge quest replete with his unmatched level of humor and horror, the wonder of youth against the cynicism of a cold hard world, characters that you'd want to spend a few years with, dialogue and meditation in the Charles Portis/Cormac McCarthy mode, though brought to a whole nother level, that make this an instant classic even amidst his Olympian ouevre. my first Lansdale book (I've read all of him, except for the comic books) was a coming-of-age novel, a cruel cross between To Kill a Mockingbird and Silence of the Lambs, The Bottoms, and i've always recommended it to friends who've never read him before. The Thicket now holds that place. start here, move through the dangers and delights of the Hap and Leonard series, and don't forget the horror novels (Cold in July is being made into a movie as we speak; Bubba Ho-Tep is a cult classic).
lotta magic in Nacogdoches.
wish this book would never end.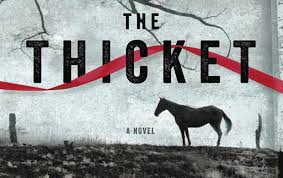 Subscribe
Never miss out on Christopher's events or special notices.