just finished reading the noir master, Ken Bruen's RILKE ON BLACK; one of the few i'd not read (though THE DEVIL has come out in the last year, so i've got that on order, and i may have missed one of his artful collaborations with the extraordinarily talented Jason Starr). i surely needed a slamdunk antidote to the antiseptic and insipid ZERO HISTORY, and boy did i get it, like a Sig Hauer to the teeth: hardboiled like no one else can do, with perps and victims quoting Rainer Maria at each other, bashing brains metaphysically as well as viscerally. even a cameo by WHITE TRILOGY bad cop/worse cop South London Met Detective Sergeant Brant.
a perfect book.
found AMERICAN SKIN by Ken way down the must-read stacks under the piano, and have started that this morning, not being able to keep til THE DEVIL shows up on my doorstep.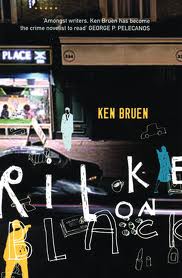 Subscribe
Never miss out on Christopher's events or special notices.