even more astonishing than the breadth and scope of Lucius Shepard's imagination in the seemingly infinite variety of his plot, trajectories and characterizations is the power inherent in narratives that share a common theme or tone; when novellas with common locales or sensibilities are collected, they are their own mythologies: THE JAGUAR HUNTER, LIFE DURING WARTIME, and now, the latest collection, THE DRAGON GRIAULE, which i've just finished reading.
the centuries-moribund Griaule still influences and drives the population gathered under his wing, an archetype to rival any other such fantasy-genre entity.
i've read most of the already-published numbers of this volume, and rereading those had new magic accrued in the revisiting, and the sheer beauty of his writing bears and rewards repetition. but not only is there ample new material in this volume, we are blessed by an addendum of story notes recounting Lucius' life at the time of the tales' inception, energies and events and zeitgeists which seeded their creation.
there's no one remotely like him. thanks again to Stona Fitch, whose Concord Free Press brought me to Lucius' work through his novel, A HANDBOOK OF AMERICAN PRAYER.
pick up any and all of Lucius Shepard. he's an indispensable and unparalleled literary trove.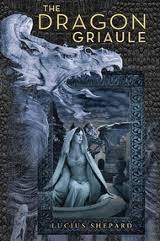 Subscribe
Never miss out on Christopher's events or special notices.