Just finished reading The Taborin Scale by Lucius Shepard, a novella of majesty and magic, part of the mythology surrounding the the centuries-old apparently moribund dragon-god, Griaule. Lucius' recent collection, The Dragon Griaule is the volume wherein you'll find this and other treasures telling of this bewitched and bewitching deity. I purchased this slim volume before the grander time was published, part of my voracious and continuous Shepard mania.
Always an honor and pleasure to read him. — with Lucius Shepard.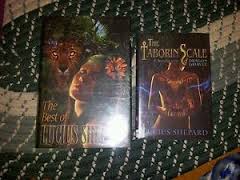 Subscribe
Never miss out on Christopher's events or special notices.