just finished reading Michael Lewis' collection of essays on the Internet, NEXT. brilliant as he is, this one can't help but be a bit dated (published in 2002) but it's still a thoughtful and incisive commentary on the online world.
pretty sure he was in First Class on a recent trip from Boston for Chicago, but when i asked if he was him, he denied it.
good book, even if he dissed me.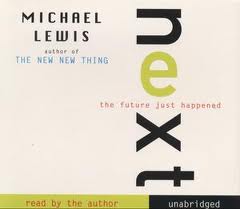 Subscribe
Never miss out on Christopher's events or special notices.