just finished reading Philip K. Dick's A Maze of Death, the technological standing in for the anthropomorphic and vice versa in another of PKD's mandalas of nested perceptions and realities in certainly his most macabre book.
great as always.
thought i would take a break from PKD, until i turned the page in this 3rd volume of the Library of America PKD Collection to find myself immersed in VALIS, re-reading that now, especially as the Exegesis is a major factor in this thorough contrast of humour with morbidity with which A Maze is suffused.
been stocking up on all the PKD novels that i've lost or foolishly leant.
44 novels in all. i'm down for it.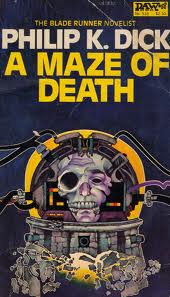 Subscribe
Never miss out on Christopher's events or special notices.