just finished reading Philip K. Dick's Flow My Tears, the Policeman Said, the first novel of PKD's post-mescaline experimentation, and the last before a cycle of stays at mental hospitals (also the first of his novels to be extensively if desultorily-seemingly revised).
the most comprehensively, intuitively, and crystal-clearly described alternate-reality novels, with vanity as prominent as verity in the dynamics of existence/non-existence. also the most drivingly plotted of his novels thusfar.
PKD is one of the most personally endearing writers of all time. i could spend all day on the StairMaster reading him; not something that one could say, for instance, of the letters between Sir Walter Raleigh and QE: there are some styles that stultify by virtue of their density; PKD reads like running water.
required reading.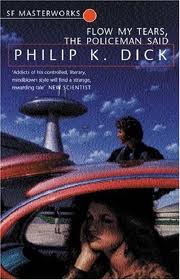 Subscribe
Never miss out on Christopher's events or special notices.