just finished reading, in my Philip K. Dick binge incted by the new Library of America boxed set of the major arcana of PKD's novels, Now Wait For Last Year, which takes place during an inter-system war one of whose weapons is a time-travel-enabling hallucinogenic with devastating addictive and debilitating effect, the importance of self-image and all the parallel self-images in which one resides in alternate times adn circumstances, and how personal responsibility seems the only constant.
i obviously made peace with one of my former/future selves, as finishing the book coincided rather creepily if perfectly with the exact end of my StairMaster hour this morning.
thought it might be a fun idea to have one book for exercise and relaxation and leave my dayjob of composing for /reading Only Revolutions for the rest of the day.
nope, gotta go all in.
might not be any new book recommendations for a while, though i may have cause to wax at length on this epic prose-poem by the inestimable Mark Z. Danielewski.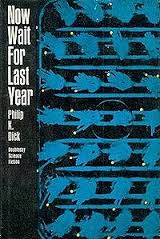 Subscribe
Never miss out on Christopher's events or special notices.