just finished re-reading, now in published form, Stephen Graham Jones' Best Serial Killer Novel Ever: The Least of My Scars.
appropriate to the Season, i read some of the home stretch listening to Classic Christmas music, Andy Williams, Elvis, Frank, Dino, so it seemed like i was listening to the Leatherface Christmas Album after a while.
this is not for the squeamish. hell, even the killer throws up in his mouth a little sometimes. still, i hope the fine rogues-gallery of first readers, myself acknowledged among them (Brian Evenson, Jeremy Robert Johnson, Carlton Mellick III, Paul Tremblay, Joe Lansdale et alia), isn't the only group who'll enjoy this macabre and hallucinatory masterpiece.
but SGJ is one of the most compellingly original voices of our time; i was hooked ever since i read his first published novel, The Fast Red Road: A Plainsong, and i count myself very lucky to have read everything since then. great to have two more waiting for me now: Three Miles Past and Zombie Sharks With Metal Teeth.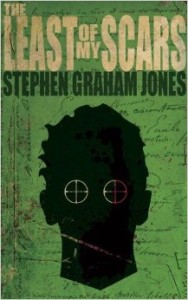 Subscribe
Never miss out on Christopher's events or special notices.