proud that the last book i finished reading in 2013 was Stephen Graham Jones' collection, Zombie Sharks with Metal Teeth. horror haiku/fireside scary story-length tales, for the most part, but of a scope and breadth of subject and genre to take your breath away: a tony noir w/space lobsters, rodents w/super brains, TV trivia and a Titanic reenactment, Rod Serling in his very own Zone episode. each one whole narrative world unto itself, with SGJ's sure and rapturous prose, and a kickass intro by Jeremy Robert Johnson.
if you've not read SGJ yet, this might be a real fun place to start. i've read all of him, just about, except he's probably finished another dozen books this week, so the coming year looks bright.
brilliant, in fact.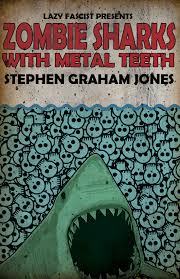 Subscribe
Never miss out on Christopher's events or special notices.