So now I've caught up with the compleat published works of Haruki Murakami (in preparation for the English publication of his latest novel, The Colorless Tsukuro Tazaki and His Years of Pilgrimage), having just finished reading his comprehensive short story collection (works from 1980-2005), Blind Willow, Sleeping Woman.
Two dozen brilliant stories wholly worthy of a Raymond Carver acolyte, with Murakami's recurring themes of extraordinary human intuition, alternative realities accessible only to the empaths, talking animals of various types. Stories which found themselves developed more thoroughly, (Man-Eating Cats extended into Sputnik Sweetheart; Firefly into Norwegian Wood, the P.I. (Private Intuitive) that made her way into The Wind-Up Bird Chronicle), make me feel, in retrospect of now having read all the fiction and non-fiction, that there is an underlining, maybe even doubled, from shorts made into longer forms, as if there might be some autobiographical integrity in these resonant materiels.
I have come to love every passage of Murakami's work. If you're new to his work, Blind Willow, Sleeping Woman would be as good as any an introduction to his wide palate of thought and narrative.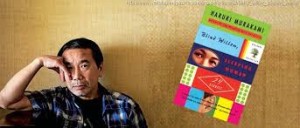 Subscribe
Never miss out on Christopher's events or special notices.