Just finished reading Madison Smartt Bell's debut novel, The Washington Square Ensemble. it was thanks to Stona Fitch and Concord Free Press that I became aware of Smartt Bell's work through his latest volume of short stories, Zig Zag Wanderer. I found his prose style addictive, his habitation of new voices compelling. I've collected all of his published works on the basis of that initial impression.
The Washington Square Ensemble is a Day in the Life in 1980 of a dealer and his crew; literally a day, Bloomsday-style, starting in the evening and, written as a multi-voiced ricercare, all through the strange and dangerous night in Manhattan's Lower East Side and finally to next day's denouement in the Park .
The crew each have their individual narrative voice and each their own spirituality (Islam, Voodoo; the head man is conversant in all). One of them has come into possession of something called The Storytelling Stone, but could be construed as the ever-sought-after Philosopher's Stone.
It's Smartt Bell's detail that really arrests you, from the ethos of Attica up through the riots, to religious doctrine, to shooting up.
I can see him as my next binge-read.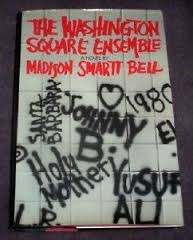 Subscribe
Never miss out on Christopher's events or special notices.