Thanks to the painstaking and penetrating procedure of Drew McManus, and the thorough and intuitive platform interactivity by Venture Industries, christopheroriley.com has a whole new face, as well as ongoing instant maintenance on all aspects of the site. Even I have a much more hands-on access to everything, from calendar to content to concept.
To re-inaugurate my site, I'm offering all who subscribe to post notifications, my mailing list, or anyone who makes a purchase on the site a free Backstage Pass. That's password streaming access to all my recordings., now through June 17th.
Welcome back. And thanks again, Drew.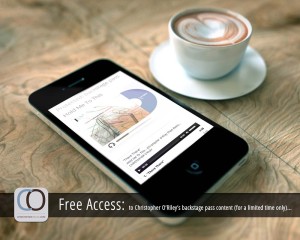 Subscribe
Never miss out on Christopher's events or special notices.